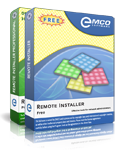 This is the professional edition of EMCO Remote Installer, a feature-rich tool that enables you to install, uninstall, repair and monitor apps in LAN remotely.
Scan and install software
Wrapped up in a large window with a clear-cut structure, the pro-grade interface lets you add machines to the network to deploy and scan available software.
It's possible to scan the local network automatically, add an IP range or specific workstations, as well as quickly set up programs on selected PCs by picking their corresponding installation file or by providing a set of multiple packages (both bundled and embedded).
Take snapshots and examine apps
Software scans can be swiftly performed with one click, or you can take a snapshot of the current settings for identification purposes. EMCO Remote Installer puts some user-friendly wizards at your disposal to help you achieve these tasks, so you don't have to worry about complicated procedures.
It gathers all applications in an inventory that you can use to examine and export information to file, uninstall or repair programs, or create scheduled tasks.
Build software bundles and set up scheduled tasks
Likewise, you can investigate multiple grabbed snapshots, in addition to a repository filled with bundles and bundle groups. Bundles can be rapidly built from templates too, such as generic or multi-platform bootstrapper, Microsoft Software Patch, or Windows Installer.
What's more, you can re-organize scheduled tasks by consulting a built-in calendar, manage collections of machines and queries (complete with filters and other configuration parameters), or choose a different interface skin and hide any unnecessary modules (e.g. software inventory, alternate credentials, operation management).
Evaluation and conclusion
The utility worked well in our testing, without hanging, crashing or prompting error messages. CPU consumption was low, while RAM usage was significant.
All in all, EMCO Remote Installer supplies network administrators with advanced and approachable tools for creating software inventories, as well as installing, removing and repairing programs on local machines.
Minimum Hardware Requirements
Intel Core 2 Duo Processor or equivalent
2 GB of RAM
250 MB of free disk space
Recommended Hardware Requirements
6th Generation Intel Core Processor or equivalent
4 GB of RAM
500 MB of free disk space
Supported Platforms
Windows XP (with SP3 or later), Windows XP x64 (with SP2 or later), Windows 2003 (with SP2 or later), Windows 2003 x64 (with SP2 or later), Windows 2003 R2, Windows 2003 R2 x64, Windows Vista, Windows Vista x64, Windows 2008, Windows 2008 x64, Windows 2008 R2, Windows 7, Windows 7 x64, Windows 8, Windows 8 x64, Windows 2012, Windows 8.1, Windows 8.1 x64, Windows 2012 R2, Windows 10, Windows 10 x64
Requirements
Administrative rights on the local computer
Microsoft .NET Framework 4.0 or above
Enabled NetBIOS over TCP/IP