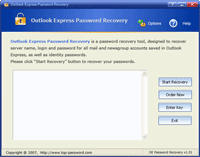 Outlook Express Password Recovery is a password recovery tool, designed to recover server name, login and password for all mail and newsgroup accounts saved in Outlook Express, as well as identity passwords. With Outlook Express Password Recovery, you'll get all your lost mail passwords back instantly, regardless of the length of passwords!

Key Features & Benefits
* 100% recovery rate.
* All versions of Outlook Express are supported.
* Recover passwords for Outlook Express mail and newsgroup accounts.
* Outlook Express identity passwords are recovered instantly.
* Display email address, server address, server type, login and password for all mail accounts of Outlook Express.
* User-friendly interface. It is quite easy to use.
* FREE technical support.
* FREE update.