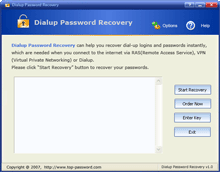 Dialup Password Recovery provides an easy solution to this problem. The program displays (recovers) logins and passwords for LAN, Internet and network access (including modem connections, ISDN lines, virtual private networks).

Key Features
* Support multiple methods of network connection;
* All passwords are recovered instantly, regardless of the length of passwords;
* Compatible with Windows Vista;
* Multiple dial-up connections can be recovered at one time;
* User-friendly interface. It is quite easy to use.